Each year, the CMT UK community gets together at its annual conference to learn, share, meet and have fun.
This year, we will be hosting our first ever virtual conference, the CMT UK Conference 2021.
Come join us!  Everyone is welcome. 
About the Conference
The conference will take place over two days and we have some great speakers lined up from around the globe!
Here are some of the speaker highlights:
Professor Mary Reilly, CMT UK patron and Professor of Neurology at UCL Queen Square Institute of Neurology will be giving an update on diagnosis and potential therapies, as well as answering any questions you may have.
Marina Kennerson, Professor of Neurogenetics/ Neurosciences at ANZAC Research Institute and Sydney Medical School will be talking about how DNA can contribute to CMT.
Imelda Hughes, Consultant Paediatric Neurologist at Royal Manchester Children's Hospital, will be talking about CMT symptoms in children and the differences between CMT types.
Wendy Foo, Occupational Therapist at Royal Manchester Children's Hospital will talk about everyday life with CMT and how occupational therapy can help.
Plus, join Karin Rodgers from CMT Kids for an update and Q&A, find out about a research project CMT UK has contributed to and ask our sponsors about their CMT-friendly products and services. You can also join our live quiz on Saturday evening for a fun round-up to the conference!
Who the Conference is For
The conference is ideal for anyone interested in CMT (Charcot-Marie-Tooth) or would like to find out more about the condition.  Whether you are a member or non-member of CMT UK or a medical professional, everyone is very welcome to attend.
About the Sponsors
We are very grateful to our sponsors for supporting our 2021 conference.  Our sponsors have been specifically selected to add value to the conference and the CMT community.  Please do get in touch if you are interested in any of their products or services (mentioning the CMT UK Conference) – they will be delighted to help.
Main sponsor:
Dorset Orthopaedic is one of the UK's leading independent providers of prosthetic,orthotic, silicone and rehabilitation services. Dorset Orthopaedic operates under its ethos of "Strive for Better", and helps clients live life without limits. As well as having comprehensive experience in meeting the needs of complex cases, it is also a world leader in silicone skin solutions. It prides itself on providing total rehabilitation for its patient.
For further details, visit www.dorset-ortho.com
Gold sponsors:
TalarMade are an innovative UK based Orthotics company who are focused on improving patient outcomes and delivering clinical excellence through product design, research and education.
We successfully introduced the Turbomed XTERN AFO to the UK. This AFO provides unparalleled function for most patients with CMT without compromising footwear fit.
Based in Chesterfield. We will launch TalarMade Clinic in July 2021. This state-of-the-art facility will allow our clinicians to carefully assess and treat patients requiring footwear, insoles, AFO's and other orthoses.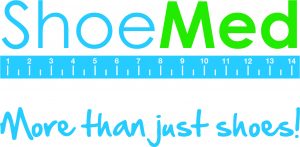 ShoeMed offers a solution for people with CMT experiencing the frustration of trying to find shoes suitable for their use of foot and or ankle/foot orthoses.  A person with CMT will also be likely to have a cavus foot type and the need for footwear which actually assists with their walking.  After training in medical grade footwear fitting, Lisa Preston set up ShoeMed.  Lisa says "one of the most successful shoes for people with CMT is the YDA (Your Daily Activity) shoe"
As a special conference offer, if you would like to purchase a pair of shoes, please use the code CMT10 either in-store or online, this code is valid until June 21st.
SpecialKids.Company is a UK based company specialising in adaptive clothing, footwear and accessories for children and teens with special needs. Sasha Radwan, the founder of the company wanted to make sure that 'every child should be seen & not hidden' and that's now possible with the range of products available. SpecialKids.Company is the UK distributor for Billy Footwear which has changed the way children and adults can wear shoes. The FlipTop technology allows the wearer to zip their feet in and has changed the lives of many toddlers, children & adults including those wear splints.
About CMT UK
CMT UK is a UK charity, working to support those who are affected by Charcot-Marie-Tooth disease.  To find out more about our charity click here.  Or to find out more about Charcot-Marie-Tooth disease, click here.  If you are interested in becoming a member of CMT UK, click here.